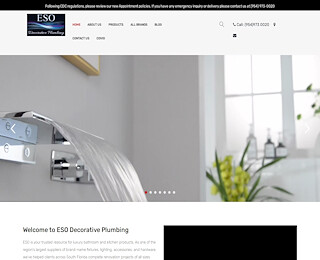 Are you shopping online for a free standing bathtub in Delray Beach? Check our stock at Eso Decorative Plumbing for luxury fixtures, like stand-alone tubs that can be installed in any indoor or outdoor area. We offer our customers the freedom to choose from many different styles and brand names, so you can always find free-standing tubs from the most popular manufacturers when you visit our showroom or shop in our Web store. Invest in the best and enjoy long-lasting beauty and functionality in your home.
8 Popular Free Stand Bathtubs You'll Find at Eso Decorative Plumbing
1. The ivory-white Crosswater Waldorf is an exceptionally stylish tub made to accent any bathroom or bedroom. Its deep basin and generous length make it a comfortable option if you love spending a lot of time in the bath.
2. MTI from Juliet blends marvelously sleek curves with contemporary fashion to give you one of the most comfortable drop-in bathtubs on the market today. Paired with a high-end faucet from our website, the MTI is a one-of-a-kind tub that exudes class.
3. Check out V + Alberts for a low tub that would make an excellent alternative to walk-in bathtubs. With ample space for two, the Cabrits will give you 101 reasons to soak in the tub on a rainy afternoon or cold winter morning.
4. Our Couture collection includes one a very popular free standing bathtub in Delray Beach. Wetstyle is a no-frills, luxury tub with enough space for a deep soak with bubbles. Invest in unmatched elegance and value with one of our Couture fixtures.
5. If you value a bargain on a quality product, you'll want to take a closer look at Jason's line of tubs from Eso Decorative Plumbing. Jason's tubs are simplistic in appearance at first glance, but oh-so-beautiful to behold upon further inspection.
6. Visit Eso's showroom to see our Jetta tubs; bring your list of questions with you and our kitchen & bathroom fixture pros will help you pick out the right free standing bathtub for your Delray Beach home. Jetta can offer you ultra-luxury and comfort at a price geared toward your budget.
7. Relax in Native Trails hammered copper freestanding tub and let the hours go by while you pamper yourself. Hammered copper holds the heat and cold, so however you like your tub, you'll use less water to maintain the ideal temperature.
8. The Americh Neena is a 66 inch free standing soaking tub with exceptional visual appeal. If you're in the planning phases of a bathroom renovation, consider the Neena luxury tub for your bathroom's centerpiece.
Here at Eso Decorative Plumbing, we have many additional fixtures and accessories aside from tubs, such as bathroom vanities, faucets, hardware, lavs, kitchen sinks, and cabinetry. Why not stop by our conveniently-located showroom to see our products in-person and speak with a design consultant? Review our complete line of kitchen and bath fixtures online now or call our Eso staff at 954-973-0020.
ESO Decorative Plumbing
+1 954-973-0020
1771 North Powerline Road
Pompano Beach FL 33069 US