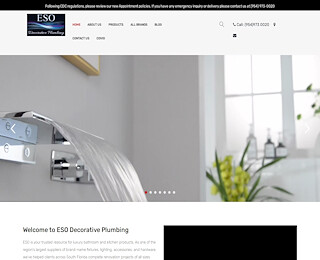 Planning a kitchen or bathroom remodel is one of the most daunting tasks you can undertake, yet one of the most rewarding. A kitchen or bathroom update will immediately improve the appearance and function of your home as well as add value. At ESO Decorative Plumbing, we offer a wide range of beautiful fixtures for bathroom and kitchen build-outs and remodels. As a leading decorative plumbing service in West Palm Beach, our team will assist you in planning your new kitchen or bath and help you create the home of your dreams. With our help, you will enjoy an upscale update that will be a wonderful option for your house for many years to come.
Benefits of Bathroom and Kitchen Remodels
Your bathroom and your kitchen are the two most important rooms of your home. These rooms can become outdated and when they do, they can make your entire home look old and dingy. A remodel project for your kitchen or bath can immediately raise the value of your home and make it more desirable. At the same time, updated features and fixtures will enhance the appearance and you and your family will be much happier. Our decorative plumbing service in West Palm Beach is your go-to company for all your remodeling needs. We sell a wide range of fixtures that will be perfect in your new room design.
Experience Our Kitchen and Bath Showroom
As a top decorative plumbing service in West Palm Beach, we are proud to help our clients when they visit our wonderful kitchen and bath showroom. We feature many of our high-quality products so you can gather ideas for your own remodel project. Our experts will help you evaluate your needs and lead you to products that will fit your expectations. We will assist you in the design process so you will achieve an upscale, flawless appearance in your home. We will work with you or with your contractor to create appealing and functional rooms. We have some of the most extensive luxury and specialty fixture items available in the entire area.
Create the Bath or Kitchen You've Always Wanted
Now is the time to use your creative skills and let our experts guide you through the process. We will help you get the most of your home. Whether you are moving into a new home or are looking to update your old house, we are here to help. As a top decorative plumbing service in West Palm Beach, we have everything we need to get you started on the path to success. With our guidance, you will choose the fixtures and items that will make your home look spectacular. We sell only top-quality products from the best manufacturers. You will find everything you need to bring your home up-to-date with the latest products and fixtures on the market.
Call ESO Decorative Plumbing

As a leading decorative plumbing service in West Palm Beach, we combine function with beauty to bring you fixtures that will immediately update the look of your home. You can bring your home from dull and outdated to fresh and luxurious in an instant. Contact us today to visit our showroom.
ESO Decorative Plumbing
+1 954-973-0020
1771 North Powerline Road
Pompano Beach FL 33069 US